ISOMETRIC PLUMBING DRAWINGS
Advenser is a leading BIM Service provider offering premium quality plumbing drawings to clients all over the globe. We have a team of talented and experienced BIM modelers, and CAD drafters delivering various shop drawings. Advenser caters to a wide array of clientele such as engineers, general contractors, owners, design consultants, fabricators, estimators, product manufacturers, MEP subcontractors, installers, and facility managers. Over the years, we have successfully executed a diverse range of projects in the residential, commercial, and industrial sectors making us one of the pioneers of plumbing shop drawing services. Our team of experts offers cost-effective solutions and efficient isometric plumbing layouts with the highest precision in compliance with the international plumbing codes and standards as required by the clients.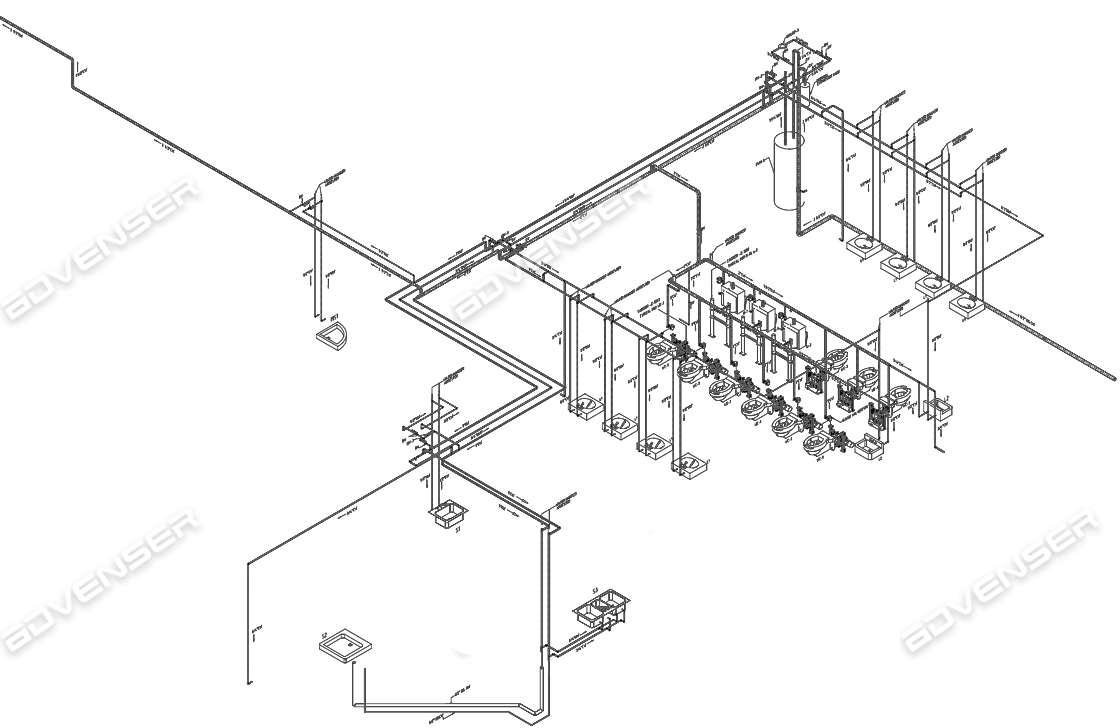 Our MEP drafting team generates isometric plumbing drawings also termed as, isometric projection in the form of a technical drawing indicating plumbing systems, pipes, fittings, and fixtures of water supply, drain, waste, and vent systems at a 45° angle as a three-dimensional representation. These isometric plumbing drawings produced by our team depict exact measurements and the assembly of components fitting together facilitating the on-site workforce with their tasks to put the pipes and fittings accurately conveying the design intent to the plumbers and installers with the insights of pipe installations as well as the verification and validation of the layout as per the code compliance.
Retaining good isometric plumbing drawings prove to be crucial for a successful plumbing project and we ensure that our clients possess the same by delivering them competent plumbing isometrics in a quick turnaround time.
Our Isometric Plumbing Drawings include/depicts:
Pipe lines and symbols representing plumbing layout
Size, location, and types of pipes.
Color codes, symbol legend, notes, and specific keynotes.
Plumbing fixture schedule
Accurate dimensions for all piping, cold/hot water, sanitary, drainage, vent.
Water risers and sanitary stack, revents, traps.