Piping shop drawings are produced for the prefabrication of HVAC pipes. They depict the fabricator's or mechanical subcontractor's interpretation of how the hvac pipe design information needs to be transformed to the building site. We provide detailed and precise piping shop drawings for the fabrication, installation and assembly of mechanical piping systems for fabricators and mechanical contractors. We utilize building information modeling to extract accurate pipe shop drawings. Our services cover standalone piping shops as well as coordinated MEP shop drawings, integrating architectural, structural, plumbing and electrical systems. Our MEP engineers are adept in MEP clash coordination abilities mitigating hard and soft clashes.
Mechanical Clash Coordination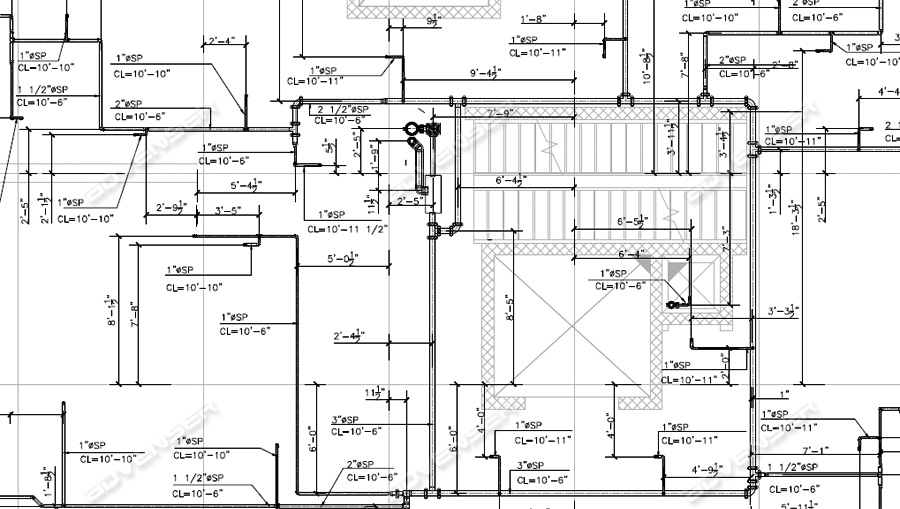 Our shop drawings help contractors and engineers for obtaining precise specifications and for identification of faults and errors before fabrication and site construction begins, saving construction time and overall project cost. We prepare the piping shop drawings after a detailed and careful study of the HVAC design drawings. Our piping modelers possess advanced skillsets in leading BIM software tools and indepth knowledge in the fabrication processes of mechanical elements. They have extensive international experience in MEP projects and can easily adopt the working standards and custom business needs to prepare the shops so that they satisfy their unique requirements. The drawings embed physical dimensions, manufacturing protocols and specific instructions for accurate fabrication. They also contain the required information for assembling the pipes including installation instructions, connection diagrams, and material lists for procuring supporting materials.
Our Piping Software Expertise: